Continuing Education
Antioch University
Dyslexia Certificate
Available Online or On-Campus
Dyslexia affects 20% of students across the United States. Teachers everywhere need access to the tools and techniques that help students with dyslexia achieve their full potential. That is why Antioch University Midwest (AUM) is now offering our International Dyslexia Association (IDA) accredited Dyslexia Certificate program online. Through our distance-learning program, educators around the nation can now access the most up-to-date techniques for empowering students with dyslexia.
There are only 17 IDA accredited dyslexia certificate programs in the world, and Antioch University Midwest is proud to offer one of them. Registration is now open for the next term, which starts in January 2016. Contact AUM to learn more about our Dyslexia Certificate program and our mission to bring it to educators everywhere.
To learn more - Click here
AASEP Board Certification in Special Education Professionals (BCSE)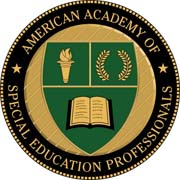 In partnership with The American Academy of Special Education Professionals(AASEP), NASET members now have the opportunity to achieve AASEP Board Certification in Special Education - (B.C.S.E.) at a reduced fee. AASEP Board Certification in Special Education - (B.C.S.E.) is a voluntary choice on the part of the candidate. The candidate for Board Certification wishes to demonstrate a commitment to excellence to employers, peers, administrators, other professionals, and parents. From the standpoint of the Academy, board certification will demonstrate the highest professional competency in the area of special education. Board Certification in Special Education establishes a much needed standard for professionals, across disciplines, who work with exceptional children.
For more information on Board Certification in Special Education, click here
---