Continuing Education
University of Cincinnati
UC Changing Behaviors.
UC Changing Lives.
University of Cincinnati's online graduate certificate and master's degree in behavior analysis can expand your skills in the core competencies of applied behavior analysis and prepare you to become a skilled practitioner.
100% online; no on-campus residency
Learn from real-world, clinically experienced faculty
No GRE required for admission
Complete the certificate in as few as three semesters, and the master's in as few as five
Regional and CAEP* accreditation
Financial Aid available for both the graduate certificate and master's degree
To learn more - Click here
University of Kansas
Be challenged. Be inspired.
Students at the University of Kansas are part of a vibrant academic community and are dedicated to making a difference in their lives, careers, and communities. They learn from world-renowned faculty in top-ranked degree programs, form rich personal and professional relationships, and graduate with the skills they need to achieve their goals. So can you.
Advances in educational technology have changed the way we teach and learn. The University of Kansas is embracing this new future, moving boldly into online education and leading with one of its premier programs – the M.S.E. in High-Incidence Disabilities (Adaptive).
To learn more - Click here
Drexel University Online
Providing the best education and care for those with ASD
Drexel offers degree and certificate programs for educators and clinicians who work with individuals with autism spectrum disorders, including nurses, therapists, teachers, special education instructors and administrators.
Drexel University Online is dedicated to developing skilled professionals to adeptly teach, care for, and nurture individuals with autism spectrum disorders through our online master's degree and graduate certificate programs.
Catered to our students' careers and professional development, Drexel's online programs feature renowned on-campus faculty and are top-ranked by U.S.News & World Report. Graduates of the program can pursue a wide career trajectory, including Applied Behavior Analysis, Autism Spectrum Disorders, Nursing, or Special Education.
Featured Programs:
Graduate Certificate in Applied Behavior Analysis
MS in Applied Behavior Analysis
Graduate Certificate in Autism Spectrum Disorders
Graduate Certificate in Special Education Leadership
MS in Special Education
Special Education Certification Program
Certificate in Integrated Nursing Care of Autism Spectrum Disorders
MS in Educational Administration – Special Education Leadership Concentration
For more information, click here
---
AASEP Board Certification in Special Education Professionals (BCSE)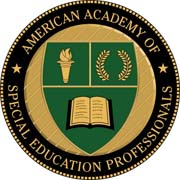 In partnership with The American Academy of Special Education Professionals(AASEP), NASET members now have the opportunity to achieve AASEP Board Certification in Special Education - (B.C.S.E.) at a reduced fee. AASEP Board Certification in Special Education - (B.C.S.E.) is a voluntary choice on the part of the candidate. The candidate for Board Certification wishes to demonstrate a commitment to excellence to employers, peers, administrators, other professionals, and parents. From the standpoint of the Academy, board certification will demonstrate the highest professional competency in the area of special education. Board Certification in Special Education establishes a much needed standard for professionals, across disciplines, who work with exceptional children.
For more information on Board Certification in Special Education, click here
---