Continuing Education
University of Cincinnati
UC Changing Behaviors.
UC Changing Lives.
University of Cincinnati's online graduate certificate and master's degree in behavior analysis can expand your skills in the core competencies of applied behavior analysis and prepare you to become a skilled practitioner.
100% online – and no GRE required
Complete your master's degree in as few as 20 months
Ranked in the top online programs by U.S. News & World Report
Graduates eligible to sit for the Board Certified Behavior Analyst® (BCBA®) exam
Behavior Analyst Certification Board® (BACB®) approved curriculum
To learn more - Click here
AASEP Board Certification in Special Education Professionals (BCSE)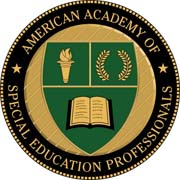 In partnership with The American Academy of Special Education Professionals(AASEP), NASET members now have the opportunity to achieve AASEP Board Certification in Special Education - (B.C.S.E.) at a reduced fee. AASEP Board Certification in Special Education - (B.C.S.E.) is a voluntary choice on the part of the candidate. The candidate for Board Certification wishes to demonstrate a commitment to excellence to employers, peers, administrators, other professionals, and parents. From the standpoint of the Academy, board certification will demonstrate the highest professional competency in the area of special education. Board Certification in Special Education establishes a much needed standard for professionals, across disciplines, who work with exceptional children.
For more information on Board Certification in Special Education, click here
---